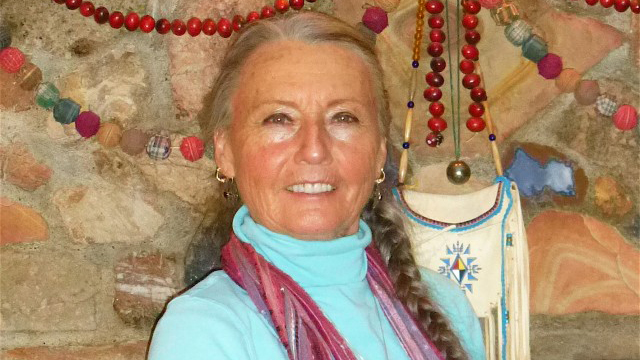 Brooke Medicine Eagle Workshop

In dem Workshop "Women of Beauty – Women of Power" werden wir die angeborene Schönheit und Kraft in uns erforschen, die uns ein gesundes, freudvolles und sinnvolles Leben bringt.

Brooke wird an diesem transformativen Workshop-Tag ihre Geschichten und Überlieferungen vermitteln, abgerundet durch Kreistanz und Gesang, und uns von ihren Visionen und alten Prophezeiungen erzählen.

WORKSHOP "WOMEN OF BEAUTY – WOMEN OF POWER"
Samstag, 14. März 2020
10:00 – 17:00
(1 Std. Pause)

Location/Ort: VIENNA CITY SOUND, ROCKHGASSE 6,  1010 WIEN
(Anreise mit der U2 od. Straßenbahnen bis Schottentor/Universität oder U3 bis Herrengasse)

Mitbringen: Kleid/Rock und Schal, Sitzunterlage (zB Sitzpolster, Yogamatte, Decke …)

These are times that call for our very best, and my intention is to deepen and empower you – to set you on a chosen path of beauty and offering to All of Life – a pathway that leads to your own transformation and the uplifting support of a larger community in the throes of surging change.

As women on Mother Earth, our innate gift is the feminine power to nurture and renew Life, which is thus also our charge and responsibility. In a critical time, how we step forward to do this can make a vital difference in gracefully moving us into the peace and glory of a new and golden time. And because we have so much, we will be asked to lead. I say let's do it with vitality and love and class!

For our transformative experience, we will use story, circle dance, chant spirit song, laughter and an atmosphere of radiance.
Brooke will also share with you from the ancient prophecies and her own visions.

+++ Bring simple ceremonial skirt or dress and a shawl +++

Workshop: € 120
As we only have limited space for this sacred circle of women, please register office@byoga.at

PRIVATE CONSULTATIONS with Brooke


Together we will create sacred space and take a prayerful look at your situation – staying open-hearted and receptive to what Creator brings to and through us. Our goal will be to move you toward the ripening and sharing of your gifts to the world, and the abundant life which that giving brings in return.

In the end, we will turn attention from the "problems" or challenges toward a positive, heartful vision of what is possible for you and worthy of you – how you wish to spend the energy of this one precious life. We will step out of the cage of "good and bad" into the garden of that which is useful, beneficial, appropriate, timely and of service to yourself and the world.

Private Consultation (1 hr) on Friday/Sunday: € 90
For an appointment please contact Alexandra office@byoga.at

About Brooke:

Brooke Medicine Eagle, is a legendary Earthkeeper,  wisdom teacher, visionary, singer/songwriter, catalyst for wholeness, and ceremonial leader. She is the best selling author of the Native American literary classic, Buffalo Woman Comes Singing, and of The Last Ghost Dance. Over the last 35 years, her many music recordings, teachings, writings, conference appearances, and wilderness spiritual retreats have touched the hearts and minds of people all over the world.

Brooke is a fore-mother of the Moon Lodge / Red Tent awakening of women's mysteries wisdom: information about a women's journey from menarche maiden to moon-pause elder. Her visions have illuminated the vital role of women in the transformation of our lives and our planet. Her teachings make clear the spiritual charge that women carry and the power we have been given to accomplish it – for the healing of ourselves, our families and the world.

Brooke's lineage is an amazing rainbow, and she has always identified with the richness of all humanity, rather than any one tribe or people. She has ancestors in six native tribes (Crow, Nez Perce, Lakota, Cree, Piegan and Cherokee) as well as European blood from Scotland, Ireland, and Denmark. She is a non-traditional member of the Crow Indian tribe in Montana, where she grew up in a half-breed rancher family, homesteading in the beautiful high country of the reservation.